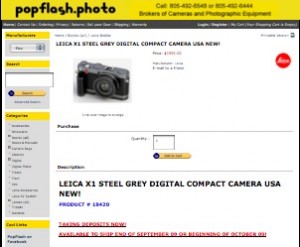 Laut Leicarumors kostet die neue M9 $6995 und die neue X1 $1995. Die X1 soll nun folgende Spezifikationen haben.
+ 12mp APS-C CMOS sensor 23.6 x 15.7 mm
+ 24mm f2.8 ASPH lens (36mm in 35mm-equivalency)
+ pop-up flash
+ 3 fps
+ RAW
+ Lightroom
+ Made in Germany
+ 2-Jahre Garantie
Angesichts dieser Preise werden sicher keine Jubelschreie ausbrechen aber dass hat auch sicherlich keiner erwartet. Leica ist und bleibt ein exklusives Gadget und das ist gut so, finde ich. Es ist interessant, dass Leica einen anderen Weg, als Panasonic mit seiner GF1 geht. Ob Leica mit der X1 konkurrenzfähig bleibt, wird sich zeigen. Sehr spannend finde ich, dass Leica der X1 einen VR (Bildstabililisator) spendiert hat, dass hätte ich nicht erwartet, da diese Technologie bei Leica bis dato in Eigengewächsen nicht auftauchte.
Bestellen kann man sie schon bei popflash sehen sie selbst.
Craftsmanship
The Leica X1 boasts of superior ruggedness and durability with its aluminium top and bottom plates,
magnesium body and aluminium dials to withstand the rigors of everyday use.

Sensor
The LEICA X1 has the world's largest sensor in a compact camera. The CMOS sensor which is 23.6 x 15.7
mm is 30% larger than its closest competitor. The LEICA X1 offers the DSLR quality in a compact camera
with its 12.2 mega pixels. The sensor offers sharp pictures in low light conditions making it a perfect
compact tool for professional photographers.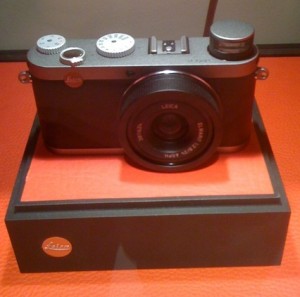 LEICA Elmarit 1:2.8/24 ASPH Lens
The LEICA ELMARIT 1:2.8/24 ASPH is an outstanding performing lens with its 8 glass elements with 1
aspherical surface. Leica quality: unsurpassed resolution, sharpness, color fidelity and contrast – even at
maximum aperture. With an image stabilizer and an ISO range from 100-3200, the LEICA X1 offers
creative options in available light even under low light conditions.

Handling – Automatic settings and manual controls
The LEICA X1 offers straightforward controls making it easy for both amateur and professional
photographer. The numerous automatic functions and manual settings of the LEICA X1 gives the
photographer options. The photographer can choose the easy way and let the camera take over the
exposure or shutter settings in the automatic mode or switch over to manual controls by using the wheels
on top of the camera. The LEICA X1 gives the photographer full control for creativity while providing the
automatic mode for quick response.

Autofocus
The LEICA X1 autofocus is quick and versatile. It automatically adjusts focus and exposure . It has a 11
point atuofocus system with Face Detection. The LEICA X1 allows the photographer to capture special
moments and fleeting expressions with greater accuracy, taking a series of shots and choosing the best
one. The photographer can capture 3 frames per second shooting speed, either in DNG or JPEG format.
It is the fastest in its class.

Optional Accessories
The Leica X1 is like any other system product. A wide range of accessories for the LEICA X1 including the
bright line view finder, the handgrip and ever-ready cases are available.